Planning to Re-open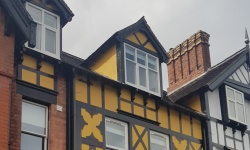 17 June 2020
Life has changed significantly for all of us over the last few months but I am now starting to plan for the re-opening of Victoria House and Jemima's Kitchen with the intention on welcoming guests back to Church Stretton.
Following a Government directive, we closed our doors in March this year (gosh, it seems so long ago) and we are now awaiting Government advice on the safety procedures hospitality businesses will need to follow before they will be allowed to re-open. Based on current guidelines, the earliest suggested date for re-opening is Saturday 4 July 2020 and we are now taking bookings from this date. Please be aware that this is conditional on Government advice and is subject to change.
(I do not anticipate that Jemima's Kitchen will re-open on this date as, due to social distancing, there will be further preparatory work which will need to be undertaken to ensure the wellbeing and safety of our staff and customers.)
I understand that the relative uncertainty we are all feeling right now might have implications on your confidence to book a stay at Victoria House and, with that in mind, our cancellation policy has been relaxed to ensure you are not disadvantaged in any way.
Book with Confidence
If you are no longer able to travel due to COVID-19 related developments, or if we have to cancel your booking for reasons beyond our control, there will be no cancellation charge. Please be aware that where your request to amend a booking is not linked to COVID-19 developments, the normal cancellation policy will apply.
We will be offering contactless check-in (or face to face check-in on request) and contactless payments.
Guests will be offered room-only rates, set breakfast times in the dining room, or breakfast delivered to their rooms.
We already employ best practice cleaning and sanitisation procedures, but we will be seeking to increase these in line with Government guidelines.
We will maintain social distancing.
While we are doing this for you, we also ask that you play your part in keeping everyone safe. Any member of staff who displays symptoms of coronavirus will not be allowed inside Victoria House and we would ask that you show the same consideration to us. If you are displaying any symptoms of coronavirus, please stay at home in self-isolation.
This is just a few of the things we are doing and, as we hear the latest Government directives, we will review our procedures and update all guests prior to arrival.
Lastly, thank you to all our loyal customers who have been very supportive throughout our closure. We look forward to welcoming you back to Victoria House in the near future.